Home Offices - The way of the future
Posted by Josephine Graziano on 13 October 2020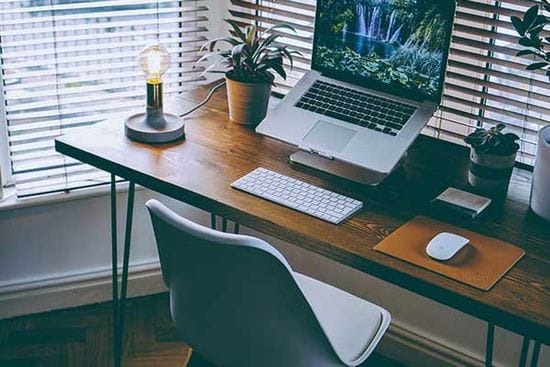 With home offices becoming the norm now, we see a fair share of pretty awful spaces that are thrown together without much thought of function or aesthetics. In this time of change and uncertainty you're probably in the same boat - having to quickly throw together your new home office.... am I right? Over the past couple of months we have had many people approach us needing help with their home office with, let's face it, this never really being on the cards, so dealing with tight spaces and trying to make it work with their existing style of the home.
So, I want to give you some tips to create a comfortable and functional home office that can work as your new normal (for who knows how long) quickly and efficiently.
Tip 1 - Where to setup you're desk
First let's decide on an area in your home to place your desk. This is so important so don't rush into this...consider these tips:
Ensure your desk has a window view of outside! try to avoid placing your computer desk directly in front of the window as you'll get shadowing on your computer screen... if this can't be helped a light filtered roller blind will do the trick. If you are drawing or reading papers then a desk in front of a window is great as you'll get natural light and won't need to turn on overhead lighting during the day.
Locate your desk away from the wall..... what? I hear you say! I know it seems like the desk will take up too much floor space but trust me - give it a go. If you can float your desk off a wall (the short end of the desk against the wall but the other 3 sides open) you'll feel a better sense of space, give you a better view and help flow around the desk. You could also setup behind the sofa in your living room. Try placing your desk up against the back of the sofa facing the TV - then you can check what the kids are watching while you work #winning
Tip 2 - Distractions
Distractions! are you reading this blog as a distraction? Wait don't go :) This is a tough one but experiment with what works for you. When I worked in a shared office, I couldn't wear ear plus as I was constantly moving around attending to more than computer work. Now that it's just me at home I have the music/podcast playing out loud bit if you have family at home this can be the perfect 'mummy/daddy's working - see they've got ear plugs in'
Most importantly Tip 3 - what supplies/furniture do you need?
What supplies do you need to work from home? Write a list and prioritise the important items (no you don't need that fluffy oversized glitter pen). If you're on a tight time frame or budget; you can easily work with the basics. This may include (apart from a computer/laptop) a seperate monitor, mouse, printer, and relevant office supplies (pens, paper, etc)
Do you have a wardrobe that you could clear out some space? Put all your supplies and messy stuff in there then close the door! having all the mess behind doors will help you 'turn-off' and walk away from work in the evening when you could be chilling with the kids. Boom!
If you use more that just a laptop, make sure you have access to power nearby (avoid cables as tripping hazards!). Go wireless wherever possible so you don't have too many cables lying around. Invest in a wireless keyboard and/or laptop stand to ensure you're not staring down at your screen. Over time this can severely affect your neck, and nobody wants a hunchback! Don't forget you can increase your computer text size if you need! CTRL SCROLL.
You've got to have a comfy chair or consider a standing desk with a pivot stool. This is where Emanate Design come in :) Ergonomics are so important especially since the masseuse is also in isolation, so you won't be able to get an emergency alignment! Listen to your body, Check in with your posture and your computer screen eye line.

Hopefully we have provided you with some great tips to make the new norm for many a more enjoyable experience :)
Author:Josephine Graziano