Healthcare furniture under the microscope
Posted by Josephine Graziano on 2 March 2017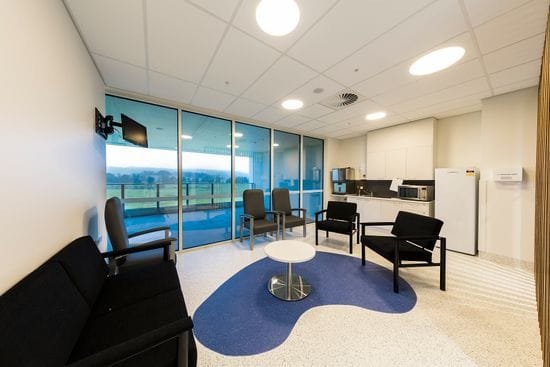 Driven by Australia's ageing population, the growth in the healthcare sector is leading to strong investment in hospital and medical furniture.
Furthermore, Health Care and Social Assistance is projected to make the largest contribution to employment growth in coming years
. Specialist hospital furniture suppliers will be vital to support this growth.
James Davies from Emanate Design in Sydney talked about their increasing success as a supplier of healthcare furniture: 'We have developed a range of hospital furniture that is regarded as best practice and satisfies the industry's tight budgets. Our range includes medical office furniture, waiting room chairs, bariatric chairs, hospital chairs and furniture suitable for medical and mental health consultations.'
Recent healthcare furniture projects
As an example of the industry's growth, James presented an overview of some recent medical furniture upgrades:
'At Bega Hospital in southern NSW, we were contracted to supply hospital room furniture, medical office furniture, fixtures and equipment. Specifically, we provided tables, meeting tables, height adjustable desks, break out and meeting chairs, soft seating, café chairs, task chairs and custom made bariatric chairs with a 300 kg weight rating. We also supplied all storage, tambours, laterals and lockers.'
'At Byron Bay Hospital, in northern NSW, we had a sourcing, supply and project management agreement for all their healthcare furniture, fixtures and equipment,' Josephine said. 'The team at Emanate Design managed the sourcing and installation of all workstations, height adjustable desks, white boards, storage units, break out chairs, soft seating, café chairs, task chairs, meeting tables and meeting chairs.'
Emanate Design received a glowing testimonial from Stuart Clark, Byron Bay Hospital's Project Manager, showing that Emanate can manage projects in any location:
'The Emanate management team has been efficient, organised and highly proficient in the tendering and procurement, with accurate invoicing, delivery and installation for the project in a remote location some 800km from their base in Sydney. All items were delivered and installed on time and with exceptional quality, with tradesmen and managers that have an excellent knowledge of the furniture industry and products, Health Infrastructure NSW guidelines and expectations and working with a tier 1 head contractor.'
Emanate Design also supplied St George Hospital in Sydney with office furniture and is in the process of quoting other medical establishments for hospital and waiting room furniture, custom bariatric chairs and wet room benches.
Rigorous standards
James commented on the high standards required as a healthcare furniture supplier. 'All our hospital furniture products have to go through rigorous testing to ensure they are fit for purpose. We often use Crypton Vinyl fabric due to its strong stain resistance. The industry also demands a minimum seven year warranty, which means we only supply the best quality products, and we offer a 48 hour delivery service.'
Bariatric chairs
In recent years, bariatric chairs have become a must-have product for hospital furniture suppliers. These specialised seats provide comfortable and safe seating for overweight patients. Emanate Design's Vincent healthcare chair is rated for a weight capacity up to 250 kg, while the popular Kara stackable healthcare chair is 200mm wide and suitable for patients up to 200 kg.
For more information about specialist hospital furniture, please call Emanate Design in Sydney on (02) 9517 4093.
Author:Josephine Graziano