First impressions count - does your reception furniture measure up?
Posted by Josephine Graziano on 19 August 2016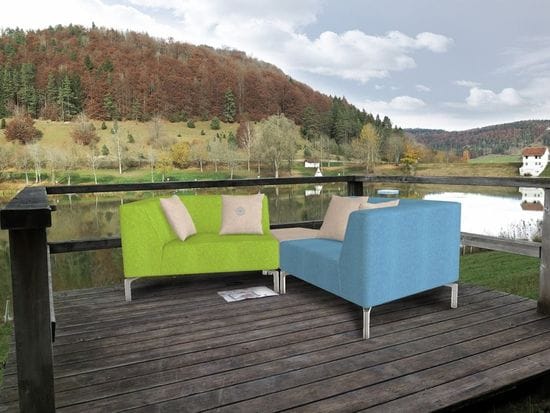 Imagine being a first-time visitor to your office. What impression would you get? An inviting reception or lounge area immediately puts visitors at ease and gets your meeting off to a good start.
Office lounge seating
Lounge seating is more welcoming and comfortable than office chairs in reception. It also has less formality, so visitors will feel relaxed. Office lounge seating comes in all sorts of styles from funky to executive. You'll be surprised how much difference your choice of office lounge chair makes to the overall feel of your reception.
Space saving reception furniture
At Emanate Design, one of our favourite office lounge seating ranges is interstuhl's TANGRAMIS5, with its clever space-saving design. The pieces connect together in a modular fashion, so the possibilities are endless. The seat height of TANGRAM is specially designed for office use and has a flexible seat depth. This ensures an upright sitting position and makes it easy for your visitors to stand up to greet you.
The TANGRAM ultra-comfortable office lounge stands on slim legs of polished aluminium, creating a slim and light look and making it easy to clean the floor. This Swiss-designed office furniture range includes a stool (use standalone or as a connecting piece), a height-adjustable table and a paravent divider, available in sound-absorbing opaque for privacy or a semi-transparent material.
Pay attention to the detail
Ensure that paintwork, reception furniture and fixtures are well maintained to show that you care about the small things. Clients will be reassured that you take care of detail, which is important in business.
Colour it up at reception
Try to showcase your brand at reception through signage and colour: furniture is a simple way to add colour. For example, interstuhl's TANGRAMIS5 office lounge seating is available in fabric and leather with a wide range of colours. The soft and cosy cushions add yet another colour option, and the cushions have optional 230 V sockets and USB ports.
Take a seat
Office lounge furniture also works well in other areas of the workplace; for example, as executive furniture in management offices, for collaboration zones or in breakout areas.
To find out more about TANGRAM, take a look at the interstuhl online brochure.
You can also browse the entire range of office lounge seating from Emanate Design online.

For more information on making a great first impression with inviting reception furniture, please call Emanate Design in Sydney on (02) 9517 4093.
Author:Josephine Graziano